This tool creates region specific lists of holidays that can be imported into Symantec Backup Exec.
As of today, this tool works for Germany, the United Kingdom and the United States of America.
Note:
The private and commercial usage of this tool is explicitly allowed free of charge.
Likewise the distribution of the tool, as long as it is done by reference to our website.
The tool is free from adware or other malicious components.
None of our tools is transmitting any data. Not to us or to anyone else.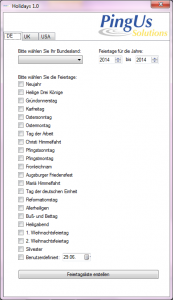 You can download the PingUs Holiday List Generator here.