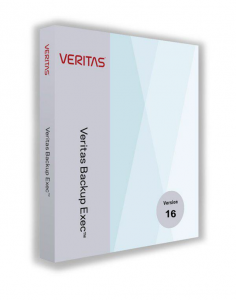 Today, Veritas released the new edition of Backup Exec, version 16.
Well, you might say that's no big deal, there's a software release every other day from one of the major IT vendors. But nevertheless, this one is different.
First of all, Backup Exec is back to where it came from and back to where it belongs. It's back to Veritas, a software company heavily focused on data availability and business continuity.
Secondly, the engineering and product management teams have kept their word and we've got full platform support for all current operating systems, including Microsoft Windows Server 2016, Hyper-V 2016 and VMware vSphere 6.5 (when it is released later this year).
Thirdly, the new design of the graphical interface of the software is optimized to assist the operator to focus on the important pieces of the job: running backups that can restore any kind of data to any kind of target.
In Backup Exec it doesn't matter whether you're backing up a database from a mission-critical physical cluster system, or a set of office documents from a file server located in any of your remote offices or "just another" virtual machine:
Whatever kind of data it is, you'll be able to restore it either to its original source, or you can redirect it to wherever you need it.
Even when another one of those virtual servers that somehow popped up from nowhere: don't worry: the automatic inclusion of virtual machines in Backup Exec will backup this machine and enable you to restore it in case of a failure.
I tried the beta version of Backup Exec 16 some weeks ago, and as of today you can try it now free for 60 days here.
I've also written the next issue of the "Backup Exec Best Practice Guide", which is available here.
Finally, Veritas uses the motto "one backup to rule them all". Even though I understand the message, I prefer to say: "Yes, we can".
And, as always: if you have any questions about my review of Backup Exec 16 and whether it is the right product choice for you, then please post your comments below. Thanks!
Merken