Again, I had the chance to assist Veritas EMEA in updating (and extending) the official Backup Exec Best Practices Guide.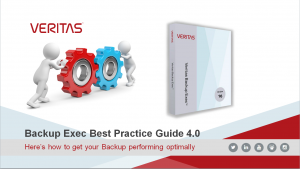 The guide goes into detail on how to configure your backup server's hardware and how you can tune Backup Exec to get the best performance.
In addition you'll find answers to some of the most frequently asked questions.
Version 4 of the guide is focused on how to leverage cloud based storages for backup purposes.
Feel free to download the guide here: Backup Exec Best Practice Guide v.4.0.
And if you have any questions or remarks, please use the comment function below.